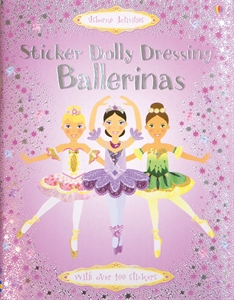 UB-StickBK-Ballerina
Dolly Dressing Ballerina Dancing Colorful Sticker Book
Our Dolly Dressing Ballerina Dancing Sticker Book is a part of our Ballet Books collection. Adorable array of diverse ballerinas. Ideal for cards, letters and notebook. Excellent gift for birthday.
Dolly Dressing Ballerina Dancing Colorful Sticker Book
UB-StickBK-Ballerina: Ballerina Book of Stickers
She'll be forever stuck on ballet with this fun sticker book!
An adorable array of diverse ballerinas frolic on each of the 8 pages.

Ideal for adding a cheerful ballet touch to cards, letters, notebooks or cards.

Stock up for birthday party favors, or your favorite group of girls.
Bring the giggles home today with this unique book of dance stickers.
*Please Bear in Mind That Photo May Vary Slightly From Actual Item.
Original Sku
UB-StickBK-Dancers