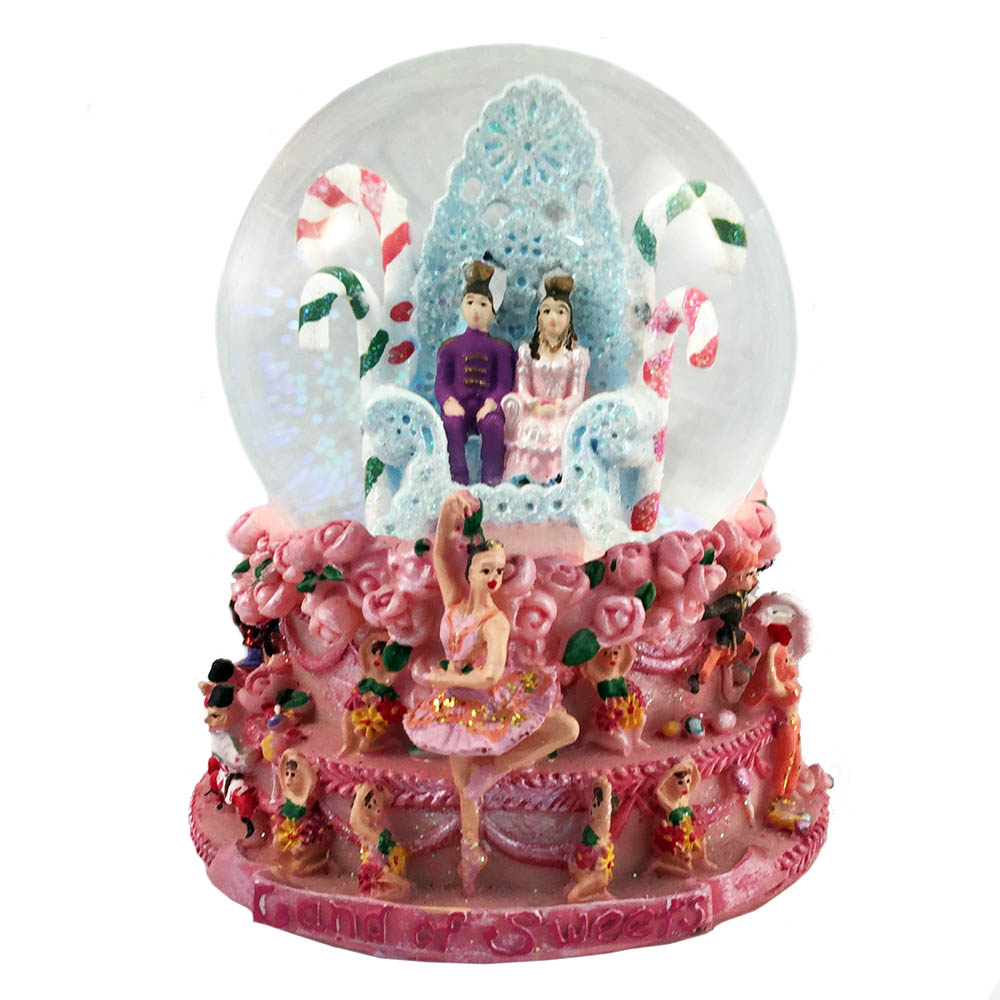 SG-LSMWG-003
Musical Land of Sweets Snow Globe Dance of Sugar Plum Fairy
Our Land of Sweets 5.75 inch tall 100mm musical Snowglobe is part of our exclusive Snow Globes collection. Sugar Plum pirouettes, with array of dancers around 2 tiers of cake, rosettes and candies. Plays Dance of the Sugar Plum Fairy.
Musical Land of Sweets Snow Globe Dance of Sugar Plum Fairy
LSMWG-003: Land of Sweets Musical Snowglobe - Plays "Dance of the Sugar Plum Fairy" by Tchaikovsky
This enticing snowglobe looks good enough to eat!
With 2 tiers of confectionary pinks, darling rosettes, candy canes, dancers, and ornate icing-like scrolling and detail, this snow globe is a warm welcome into the Land of Sweets!

The Sugar Plum Fairy greets you herself, as she pirouettes pristinely on the base, surrounded by other charming embellishments.

Clara and the Nutcracker Prince (now completely human), survey the sugary scene from mouthwatering thrones surrounded by candy canes within the snow globe.

A shake or two, and lovely snow adds just the most pleasant wintery touch, while a quick turn plays the delightful "Dance of The Sugar Plum Fairy" tune.
For sweet gift giving, this darling musical snowglobe will take the cake! Part of our musical snow globes collection. Buy one or collect them all.
100mm water globe 5.75" tall x 4.5" wide.
*Please Bear in Mind That Photo May Vary Slightly From Actual Item.
Original Sku
Globes:LSMWG-003
Brand
NBG - Nutcracker Ballet Gifts
Color
Pink, Red, Peppermint, Gold, Red
Size
100mm 5.75" tall x 4.5" wide
Material
Resin, Water, Glass, Glitter