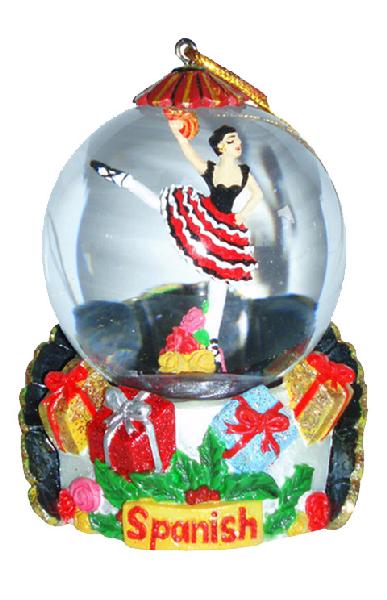 SG-45mmSP
Mini Spanish Dancer Red Dress Snow Globe Ornament
Our Mini 2.5 inch tall 45mm Snowglobe Spanish Dancer ornament is part of our exclusive Snow Globes collection. Dark Haired beauty fans herself and dances in traditional red, black and white attire. Base is pretty gift filled fan.
Mini Spanish Dancer Red Dress Snow Globe Ornament
45mmSP: Mini Spanish Dancer in Red Dress Snow Globe
Our "bailarina bonita" mini snow globe is sure to become the most delightful addition to your holiday décor this season.
Sassy Spanish ballerina displays delightful ballet moves off in classy black, red and white attire.

She grasps a fan and waves it high in the air, strong and poised. Olé!

The cheerful base is adorned with festively colored Christmas gifts in an eye-pleasing array of colors.

Give the globe a shake and enjoy a snowy surprise.
Add this springy senorita to your mini snow globe collection today.
45mm water globe. May come with an ornament topper 2.5" tall x 2" wide.
*Please Bear in Mind That Photo May Vary Slightly From Actual Item.
Original Sku
Globes:45mmSP
Brand
NBG - Nutcracker Ballet Gifts
Color
Red, Green, Black, Silver
Size
45mm, 2.5" (height) x 2" (width)
Material
Resin, Water, Glass, Glitter