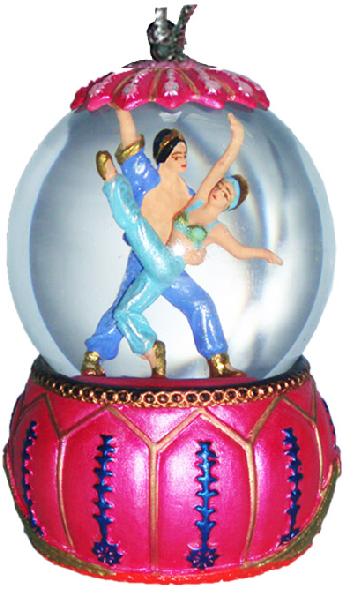 SG-45mmAR
Mini Arabian Dancers Snow Globe Ornament
Our mini 2.5 inch tall 45mm Arabian Dancers snowglobe is part of our exclusive Nutcracker Snow Globes collection. Light blue airy costumes and guilded crowns and slippers. Perfect on your mantel or hanging from your tree.
Mini Arabian Dancers Snow Globe Ornament
45mmAR: Mini Arabian Dancers Snow Globe
Two Arabian dancers strike a triumphant pose in this mini snow globe.
Man in darker blue and female in lighter blue, both wearing gold crowns and gold slippers.

Elegant blue-clad dancers in rich blue trimmed with gold engage in playful and pleasing pas de deux.

Holding a beautiful balletic pose, they recapture the most breathtaking scene from the Land of Sweets.

The base is a vibrant bold pink accented with electric blue, reminiscent of posh Arabian palaces far far away.

A gentle shake creates a wild flurry of snow.
Fluid and graceful, the Nutcracker Ballet favorites are treasured forever in this mini snow globe.
Enjoy our Chinese, Spanish, and Clara with Nutcracker mini globes for more snow globe fun. 45mm water globe. May come with an ornament topper. 2.5" tall x 2" wide.
*Please Bear in Mind That Photo May Vary Slightly From Actual Item.
Original Sku
Globes:45mmAR
Brand
NBG - Nutcracker Ballet Gifts
Color
Fuchsia, Blue, Teal, Green, Gold
Size
45mm, 2.5" (height) x 2" (width)
Material
Resin, Water, Glass, Glitter