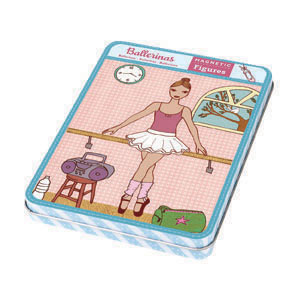 MP-Dressup
Ballerina Dancer Dress Up Doll
Dancing Ballerinas in Ballet Costume Dress Up Doll is our Toys and Games collection, a lovely ballerina with magnetic accessories, easy to handle with tiniest hands, ideal for birthdays, holidays.
Ballerina Dancer Dress Up Doll
MP-Dressup: Ballerinas Dress Up Doll
Your tiny dancer is sure to enjoy hours of imaginative play with this delightful Ballerina Dress up Doll Set.
A lovely ballerina wants you to help her get ready for ballet class with magnetic accessories that can be reused for endless possibilities.

Easy-to-handle magnets are perfect for even the tiniest hands.

Foster an early love for the beautiful world of ballet.

Ideal for birthdays, holidays, or any day!
Dress up your cart with this ballet doll for most enchanting gift-giving this season.
*Please Bear in Mind That Photo May Vary Slightly From Actual Item.