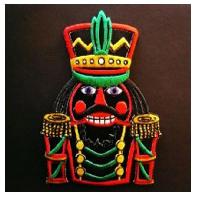 Left-Chest-nut
Left Chest Nutcracker
Left Chest Nutcracker
Left Chest Nutcracker Iron On Patch
This season you can iron on some Christmas cheer with this attractive Nutcracker patch!
Colorful Nutcracker in holiday hues of red, green and gold create an elegant accent.
Create your own unique one of a kind holiday gifts that are sure to impress!
Transform any ordinary article of clothing into a fun ballet themed work of art.
Priced right for bulk buying for projects of any size.
Create memories this Nutcracker season with a handmade holiday gift.
Original Sku
EMBROIDERY:Left Chest nut