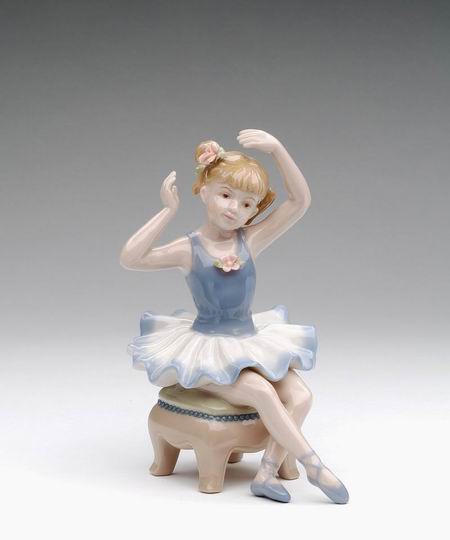 96533
Porcelain Ballerina in Blue Dress Sitting on Chair Figurine 5.5 inch
Our 5.5 inch Porcelain Ballerina in Blue Dress Siting on Chair Figurine is part of our Porcelain collection. She wears baby tutu, situated upon a chunky stool, extends her arms above her head.
Porcelain Ballerina in Blue Dress Sitting on Chair Figurine 5.5 inch
96533: Porcelain Figurine - Ballerina in a Blue Dress Sitting on a Chair
This 5.5 inch porcelain figurine of an exuberant young dancer is an adorable addition to your porcelain ballet collection!
In a baby blue tutu, she is situated upon a cute stool, waiting eagerly to go to the big recital.

Her arms extend above her head, reaching to check her pigtail, or for a quick stretch to stay limber.

Her darling pigtails complete the overall appeal.

A fun ballerina figurine, this piece makes a wonderful companion with any of our ballerina porcelain pieces.
Order today for her to join your collection of wonderful ballet gifts.
*Please Bear in Mind That Photo May Vary Slightly From Actual Item.
Size (Height)
5 1/2 inches
Color
Blue, White, Pink, Beige